Our first Visitors - June 2006



Just returned from our third trip to the Apartment, and this time, we managed to enjoy a short holiday there! The previous two trips have been taken up with the major furnishing of the place, and all the DIY jobs required to make it habitable.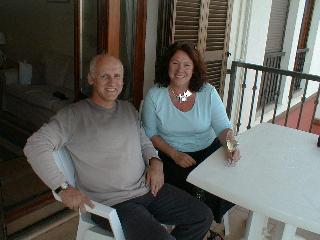 This trip was from Tuesday 30th May to Monday 5th June 2006. We arrived about lunchtime on the Tuesday following the Bank Holiday, and were met at Faro Airport by a couple of friends we had invited to stay with us at the Apartment (Joe & Barbara). They had arrived the night before, and had a pleasant evening in Faro town centre, staying at a hotel overlooking the Marina. We had wanted Joe and Barbara to be our first guests at the Apartment, as they played a large part in our decision to buy in Spain. They bought an Apartment a couple of years ago at Denia, and we had stayed at their place, a couple of times before. We had seen how much enjoyment they got from their Apartment, and this was very influential in our decision to buy. In fact, I remember texting Joe the day we signed the forms in the shed, in October 2004, the first person we told!
Anyway, we collected the hire car, and headed of to Spain. It was a fairly cloudy, misty day, so we were almost on the Guadiana Bridge before we saw it. No chance to play 'first to spot the bridge' on this day! We decided to head into Ayamonte before going to the Apartment, to get in some vital supplies at Eroski (i.e. beer and wine), before heading back out to Costa Esuri.
First thing on opening up the Apartment was the Grand Tour for our friends. It was pleasing to see that several of the items we had left on the snagging list had been done, and even the lift in the Bloque worked this time. We were surprised at how dusty the place was, as it was only a few weeks since we last visited, but I guess we will need to get used to this, whilst there is still so much building work on the development, and traffic churning up the dirt. Nothing that a few swipes of the dusters couldn't sort out. That evening, we headed into Ayamonte, to take our friends to one of our favourite restaurants there, so we could try out our pidgin Spanish.
The next day, we had decided that we wanted to see Seville.  We had planned to drive to Huelva, and take a train, but were advised to take the bus straight from Ayamonte. This we did, arriving at the bus station about 5 minutes before it left (more by luck than judgment). It took about 2.5 hours to get from Ayamonte to Seville by bus, stopping at Lepe and Huelva along the way. We had decided that this would be better than trying to find somewhere to park, but having driven to Ikea at Seville in just over an hour before, I think we will take the car next time.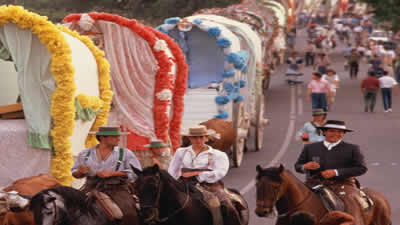 As we approached the city, the traffic was manic, as the roads were full of colouful wagons, horses, bulls, and people in national costume, heading on a pilgrimage. We later found out that this is an annual event, and hundreds of thousands of people descend on a small town to celebrate the  Romeria Del Rocio festival.  You can find out more about this festival by following this link:
http://www.donquijote.org/culture/spain/fiestas/elrocio.asp
It was amazing to see this procession winding along the main thoroughfares of a modern city. We really enjoyed it, but I'm not sure what the commuters thought!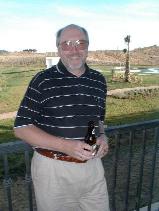 Anyway, we spent a very pleasant afternoon wandering around and through the streets of Seville, and this trip convinced us that we need to go back and spend maybe a couple of days there in the future to take it all in. Whilst in Ayamonte the previous day,  we had invested in an Electric Grill, so evening meal was a kebab barbeque on the Terrace. I have found through previous experience that it is impossible to barbeque properly, without a bottle of beer to hand.
Thursday was more of a leisurely day, with a trip out to Isla Canella for a wander along the beach, in the morning, and a cool drink at one of the beach bars. After an afternoon rest in the apartment, we headed off to Villa Real, for an exploration of the shopping area, and a meal in the evening. The Yacht Club at Villa Real had been recommended to us by a few people, so we choose there to enjoy the last night of our friends visit. It didn't disappoint, the meal was superb, the service friendly, and the bill reasonable.
Our friends returned to the UK early on Friday morning, so we took them back to the Airport at Faro, and then returned to Ayamonte. Through the Expats Forum, we had arranged to meet up with another two couples at 1pm at Isla Canella. However, I had forgotten to tell them what we looked like, and we didn't know what they looked like, so it was going to be an interesting experience. We arranged to see our Solicitor at 11am, thinking this would give us plenty of time to get to the Marina, but in the event, things overran, so we didn't get there until 2pm, and there was no sign (that I recognized anyway !) of the others. There was nothing for it but to have a few beers and a meal at La Bretagne.
Thinking I would have to wait until we returned home, and I could e-mail my groveling apologies to the other two couples, we headed back for a siesta at the Apartment. After 40 winks, we decided on a walk through the other Apartment Bloques would wake us up for the evening. As we passed the pool between Bloques 4-6, I got chatting to a lady looking after her son in the pool. After a few moments, she introduced herself as Val, and I introduce us as Bob & Carole. "Hang on", we both exclaimed at the same time, "You're not the Val/Bob that was supposed to meet today at Isla Canella?" By an amazing coincidence, the meeting we had planned for 1pm in Isla Canella was now taking place at 5pm on Costa Esuri! Val invited Carole and me to join her and husband Gary on their patio for the obligatory drinks. I explained to Val that we had been held up, and she told us how they had met with Dennis and Gill (the other couple) at the original time. A couple of very pleasant hours of chat and swapping experiences with Gary, Val and their son Dan soon sped by, before we strolled back to our Apartment.
Saturday was the first time we had a chance to visit the local market in Ayamonte, so we parked the car near the bus station, and spent an hour or so wandering around. My wife has more shoes than Imelda Marcos, but she still managed to find another pair to join the collection. I can't complain too much though, I ended up buying several leather belts to join my own collection. Following the market, we managed to find an unusual hallway cabinet in Ayamonte that now graces the entrance to the Apartment.
We were surprised at how few Apartments were occupied during our stay. In our Bloques (7-9), there was only our Apartment and one other occupied during our stay. We soon met up with the occupants of the other Apartment (David and Joy), who were out for approx three weeks (lucky beggars!). David is a golfer, so another potential golf partner is now on the list.  David had recommended a trip to Monte Gordo for the varied restaurants, so we decided to take his advice that evening. Val, Gary and Dan popped around early evening,  so another couple of most enjoyable hours were spent, on our Terrace this time, before we went our separate ways for dinner.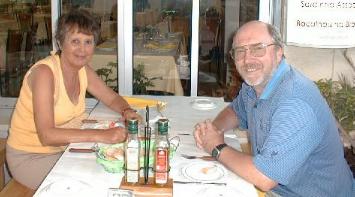 Whilst strolling around Monte Gordo prior to our meal, we found some storage cabinets for the bedrooms that we had previously seen in Ayamonte (and that we had planned to go back and buy), for roughly half the price! Needless to say, we snapped them up, and had the fun job of carrying them back to the car, before we could go and eat.
For Sunday (our last day), we had decided to try the boat trip up the Guadiana (that sounds like a Frankie Howard script!). We had strolled through the port area a few days before, and noted that the trip advertised was due to leave at 11am. We arrived early at about 10, and noticed that there was a small crowd hanging around the ferry area. We decided to have a wander through the streets, and arrived back at approx 10.30, to see the crowd getting onto what I originally thought was the ferry. We asked the chap in the ferry booth were we could buy tickets for the trip up river, and he rushed us (very good humouredly) to the boat that was just about to leave. It turned out that this was the Peninsular (sic) boat that cruised up to Alcoutim from Villa Real and we had only just made it on board! It soon became clear that we were the only Brits on the boat; it was mainly Spanish, with a sprinkling of Germans.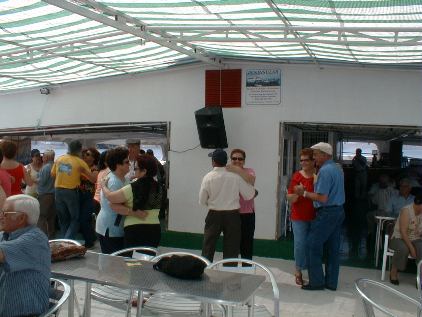 Anyway, no sooner had we left the quayside than the music started, and couples were dancing on deck. We then spent a couple of wonderful hours, cruising up the Guadiana, listening to the music, and watching the dancing. Soon the crew started to prepare a couple of on-deck barbeques, and the smell of the pork chops, chicken breast and legs, and sardines cooking on the barbeques had our mouths watering. A couple of Spanish families invited us to join their table, and we had one of the best open air meals we have enjoyed in a long time. We tried out our night school Spanish on our new friends, and they humoured our pathetic attempts at their language! The wine, orange and water flowed (I had not tried wine mixed with orange juice before, but I will again), and the meal ended with as much fresh fruit as we could eat. By this time, we had almost arrived at Alcoutim (which this day was a far up river as the boat was going, although it sometime goes up to Pomarao). We docked here for an approx 90 minutes, which allowed us to explore the castlements and museum of this Portuguese town. Then it was back to the boat for the trip back to Ayamonte. I have to confess to a little nap on the way back in between watching the singing and dancing (in my defense, so did several others on the boat). The weather on the day had been glorious, and I would recommend this trip to everyone. However, we only saw one small child on board, so those with children may not find it to their liking. I have found a web site describing the boat trip at:http://cosmos.oninetspeed.pt/valerio/baixo-quem%20somosEN.htm and this has better photographs of the countryside than mine, but not of the onboard entertainment, which is what made it for us.
I have put up some more photos of the boat trip, and the holiday, on the Picture Gallery page.
One of the big advantages of the boat trip was to see the Costa Esuri Development and Golf Course from the river, but unfortunately the combination of a lousy photographer,  limited camera, and the low view point, means the photos I took don't do this justice.
Just to make sure I didn't enjoy myself too much, Carole had lined up a few jobs for me (i.e. sealing the shower cubicle, hanging more pictures etc.) that I managed to squeeze in before the afternoon dash to the Airport at Faro on the Monday, the flight back to the UK, and the start of the dreams about the next visit to Costa Esuri.