The schedule today didnít have me down to fly until 4pm in the afternoon, so I decided to do some revision on the Navigation Exercises.† I have just about got the hang of working out the effect of crosswinds on Track and Ground Speed, using the whizz-wheel, but every time I try to work the reverse calculation (i.e. Wind Speed and Velocity), I keep getting it wrong. It should be a straightforward reverse of the logic for the first type of calculation, but I donít seem to get it; must be a mental block. I was asking Mike about these calculations, and he said they donít use the whizz-wheel, but use a graph; I think I will get a copy of that, as long as I am allowed to take it into the examination with me.
About 11 AM the phone went; it was Hector from EASA to say that my flight for today had been cancelled due to wind, and the forecast that it wasnít going to get any better in the afternoon. I was disappointed at this, but decided that I should just use the day for studying. Then I looked out of the window at the sunshine, and remembered the Golf Club down the road. I argued with myself for a bit about whether I should be studying, or playing golf. Guess what won.
When I called the River Bend Golf Club, they had a three-ball going out at 1:20, so I finished off the exercises I was working on, then headed to the club. Fortunately, I bumped into Judith again in the street, and she offered me a lift to the club. Arriving a little earlier than I expected, gave me time to grab some lunch, before I picked up my rental clubs, and introduced myself to my playing partners for the afternoon. Paul Lombardi and his wife Norma, with their friend Richard were on vacation from Rhode Island. They were great company, and I had a most enjoyable afternoonís golf. I havenít been playing too well at home recently, and got an e-mail this week to say that following the annual handicap review, my Handicap has been raised to 21, at my home club of Dore & Totley. I am not really surprised at this; I didnít play to my handicap there in any of the competitions last year. It was a pleasant surprise therefore to score 36 points on a course I have never played before, with a set of rental clubs. Maybe I should take these clubs home, and send my Pings out here as replacements.
Richard bought me a Coke as we were going around the course. You get it with a cup full of ice, so I poured the Coke into the cup. Just as I was about to take a drink, Richard hit the accelerator on the buggy, and I got most of my Coke down my shirt and shorts! Thatís one way to put off your playing partner. Fortunately, it was so hot, I had dried out by the next Tee.
As we drove around the course, we seemed to be followed by a hawk. At one point, it landed on the fairway, and it allowed me to get quite close, and take a photo. It was a magnificent looking bird of prey. One of the strange things about flying here is that it is not unusual to pass birds in the air, flying at 1000 feet and more.
When I got back to the house, the guys were looking at tomorrow's schedule on Jens Iphone. He told me we were only scheduled for one hour each, which peeved me a bit, as we had missed out today. However, when he handed me his phone to see my time slots, I realised that we were all down for three consecutive 15 minute slots each, with John as the Instructor, but the last 15 minute slot was in blue, with no Instructor initials next to it. Could this mean that we are scheduled for our first solo fligth tomorrow? The consensus of opinion is that it does!
Jens & Andreas confirmed they were going up to the Airport for the Friday Evening Social, so after a quick shower, I joined them on the walk to EASA. By this time it was very dark on the road, and none of us were wearing anything light, so we had to be careful as we walked along the roadside for oncoming traffic. In fact one driver veered across the road towards us, and we had to nip onto the grass pretty sharpish. We couldnít decide if he was not paying attention to his driving, or deliberately trying to give us a fright! As we let ourselves through the Airport gate, we met a couple of the guys from one of the other houses coming out. We asked why they werenít staying for the get-together, and they told us it had been cancelled! Fortunately, they were in their car, so we managed to get a lift back. The only thing we got from our long walk was a fright, and a few mozzie bites.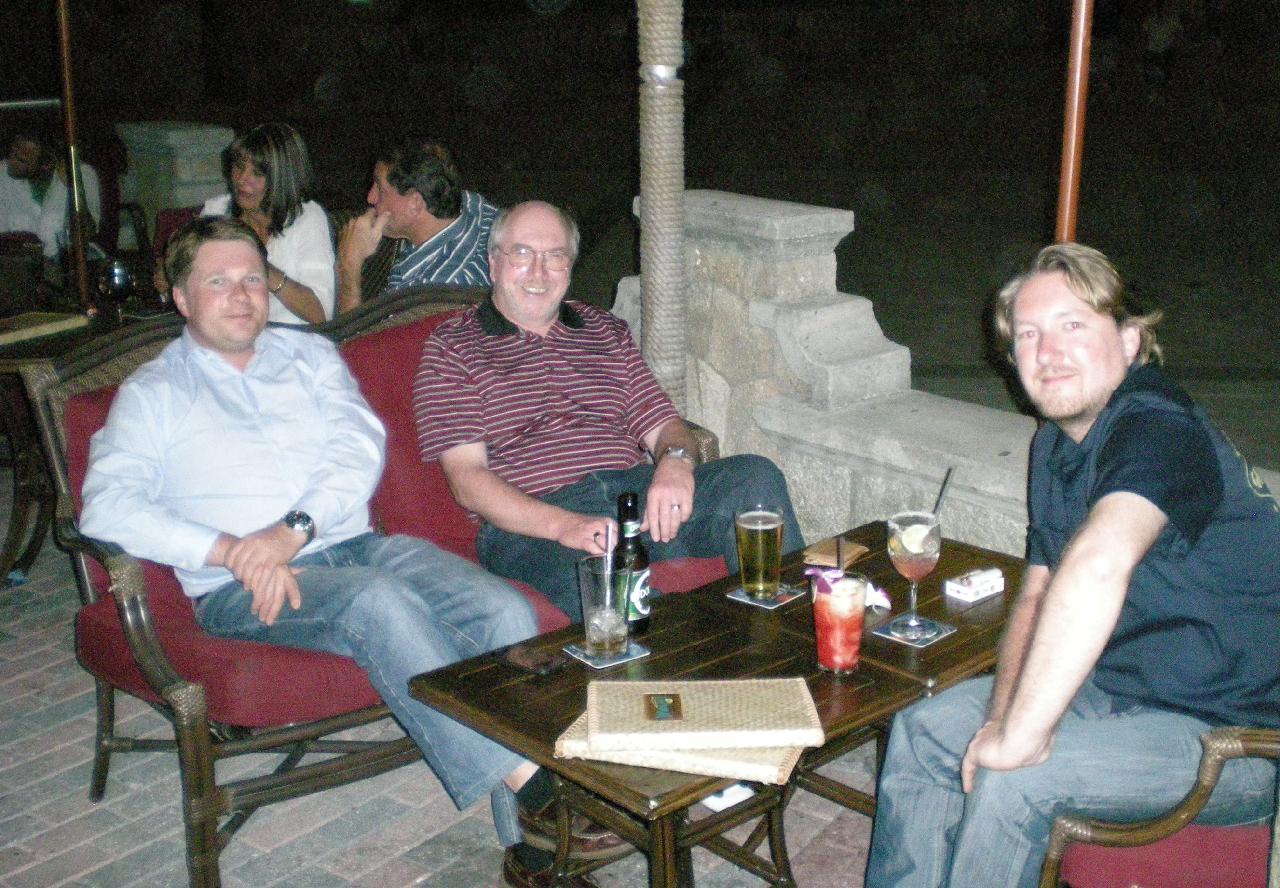 Back at the house once more, I started reading the latest Lee Child novel my friend Joe had lent me. This was the first time in almost two weeks I had found the time pick this novel up.† After a couple of chapters, and resigning myself to a quiet eveningís reading, Jens & Andreas announced that they were going into Daytona for a few beers, and asked if I would like to join them. Another hard decision. We had been told that the Mai Tai Bar was a lively venue, so we set off with Jens as the designated driver. It must have taken us about 45 minutes to find, and when we did find it, it was only about 50 yards from the place where we had eaten the previous evening. As we were enjoying the beer, and admiring the view, another four guys from the school turned up, Christian, Mehmet, Stefan and Albert, so the evening ended up as a bit of an EASA social event after all.