As expected, the weather didn't look too good when we left for the EASA, so we  weren't surprised when we got to the school, to be told that it was unlikely that we would fly today. I decided to carry on with my studies, and attempt one of the remaining three examinations, Flight Planning and Performance. I have an account with www.airquiz.com, a website that I find really useful in helping with my training. It creates example exams on demand, and then e-mails you the answers. I personally find this method of learning suits me, as I tend to research then remember the questions I get wrong.
So after an hour or so of revision, I psyched myself up for the exam, and asked Kim in the office if I could take it. I was quite deflated when she told me that all examinations for the day had been cancelled, as the CFI (Chief Flying Instructor) was off, and couldn't mark them! I'm not sure why we couldn't still have taken the exam, and had the results locked away for when he returned, but decided not to rock the boat by asking.
Just in case the weather would improve, I decided to hang around the school, and grab some lunch from Bartha in the Slip & Turn Inn.  Today, it was Tomato Soup and Egg Salad Sandwich. Bartha prides herself on ensuring that all the food is home-made, and it was very good. Whilst I was there, Joanne, who had arrived at our house last night, and Dean, who also turned up last night, came in. They had been to have their fingerprints taken, and had finished for the day, so had also popped in for lunch. When it became clear that I wasn't going to get a flight that afternoon, I decided to return to the house, and it looked like it would be the long walk again. However, I bumped into Phil (the school driver) in reception, and cajoled a lift back to the house, not just for myself, but for Joanne, Dean, and Christian, who was also about to return.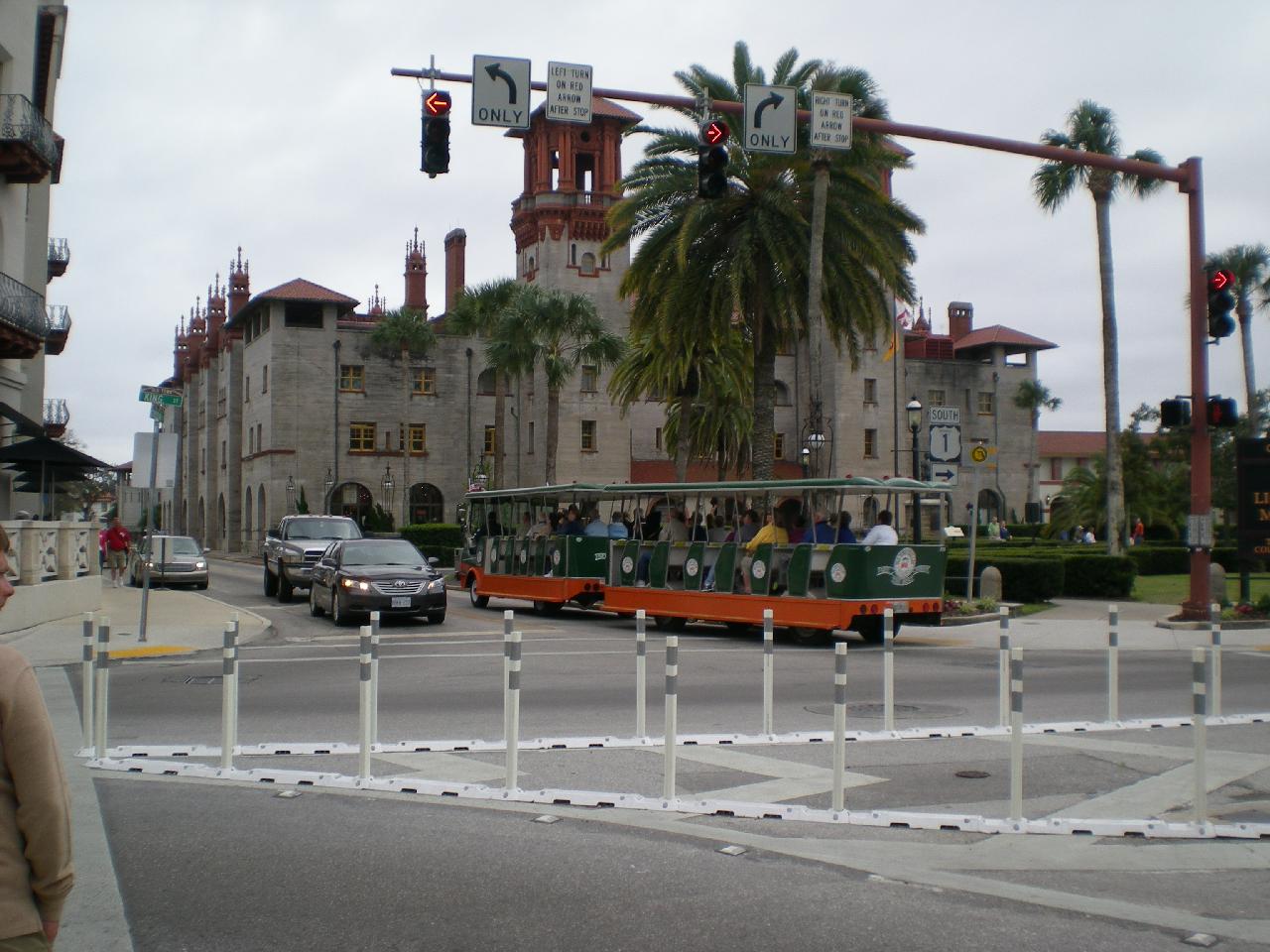 Back at the house, I thought I was in for another afternoon of studying, but Jens and Andreas said they were going for a run up to St. Augustine, and asked if I would like to join them. I jumped at the chance. St Augustine is about 55 miles up the coast. It is something of a holiday town, being on the coast, and also claiming to be the "Nations Oldest City" (founded 1565!).  It certainly has enough tour buses and trains. Most towns have one of those little trains that take you on tour, and give you a commentary, but in St. Augustine, there appear to be hundreds of them. We saw loads as we walked around the town, and I also saw a many parked up, not even in use. It must get very busy at the height of the season. We had parked up, and had a wander around the town, which was very picturesque, but I am not sure how many of the buildings are originals, or built as replicas. There is a pedestrian walkway in the center, with loads of little avenues running off, where lots of small businesses ply their trade for the visitors. We went past an Ice Cream Parlour, where the aroma was fantastic, but I resisted the notion to go in. Maybe I will go back.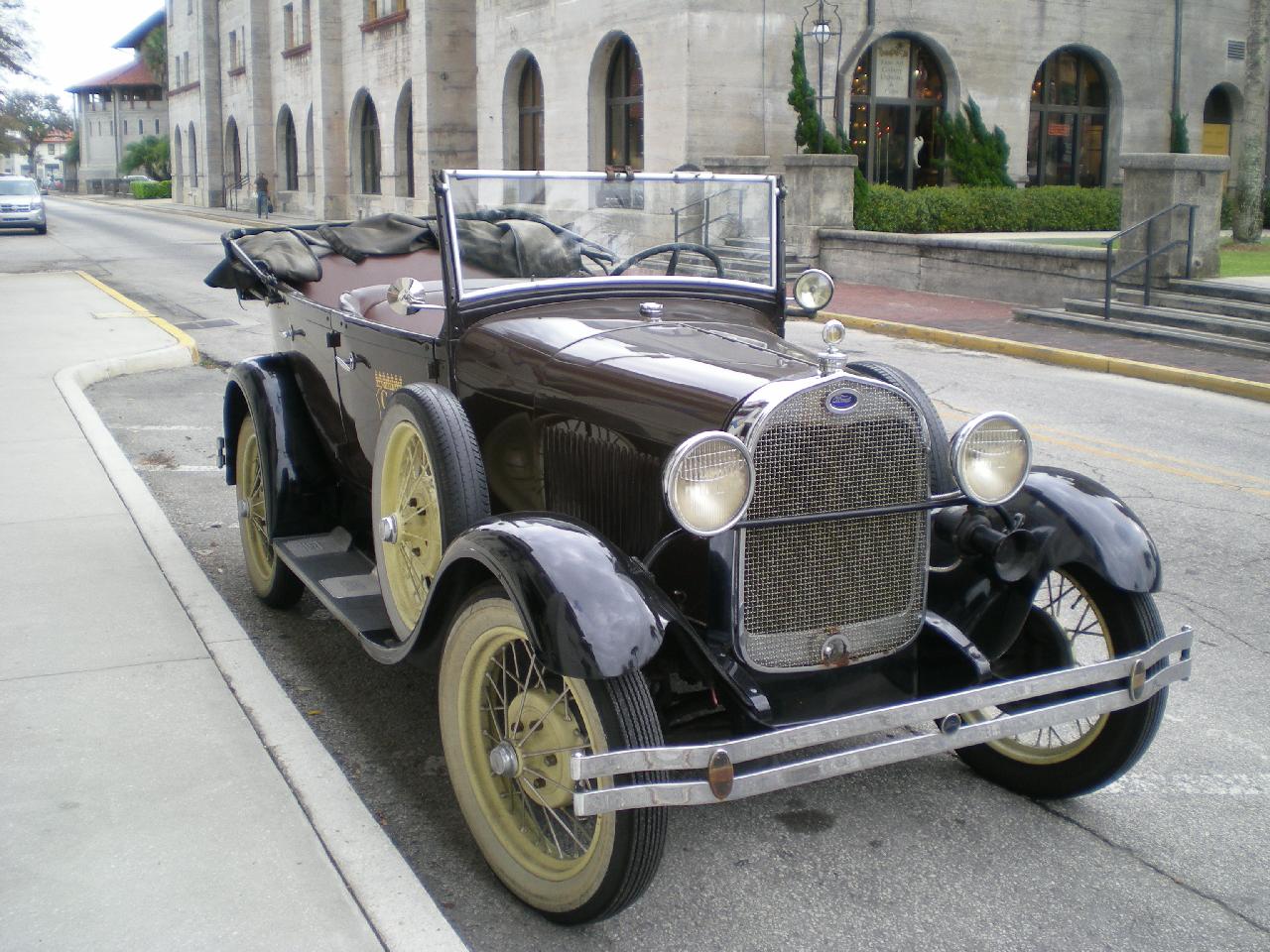 On the way back, we called into an Outlet Mall, where again, they had just about every clothing store you could think of. Jens and Andreas were much more into this than I was, but I was happy to tag along. It was very pleasant, being chauffeured around in the back of a big black Chrysler. As usual for me when I am a passenger, I fell asleep on the way back to the house. Joanne and Dean had gone to Wal Mart with Ali (who was returning his car today), to get in some supplies for themselves, so I had asked Joanne to pick me up some ready meals, the beer and pretzels were becoming a bit monotonous. When we got back to the house, I found she had brought about four or five different dishes for me. Several were with rice, and I didn't have the heart to tell her I don't usually like rice, (as she had been so good to get them for me), so I have decided to give them all a try, maybe I can educate my palette whilst I am here. Not wishing to start too soon, however, I settled for the Pork & Mash meal tonight. I refreshed my knowledge of the Microwave.
Most of us are studying one subject or another of an evening now. It was whilst sat around the table studying for tomorrow's exam that another two students arrived to share our house, John & Lydia. John is a new student, (like most of us), but Lydia already has her PPL, and is here to re-validate it, just as Tracey had been the week before. In fact, Tracey and Lydia had originally been here together for their original PPL, and Tracey had left some of her equipment with me to pass on to Lydia when she arrived. Unfortunately, Lydia's luggage hadn't arrived on the same plane as her, but luckily, it was delivered to the house by the airline late in the evening. The house is quite full now, with nine of us occupying it at the moment. As we are all at different stages of our training, and have different flying schedules, the only time we are all together is of an evening, we are quite a transient population during the day.