Today, I was scheduled for another cross country with Mike, to the Titusville area, just outside the NASA facility at Kennedy Space Center. I had completed a flight navigation plan the previous evening (as far as possible, as I had to wait for the wind information until this morning). As Jens & Andreas were scheduled for an early solo session each, I got a lift to the Airport with them. Using the school computer, I collected the Wind Forecast, TAF, METAR and NOTAM reports, and completed the navigation flight plan. I then had to complete a Weight and Balance Calculation, and lastly, a Flight Plan. When all this was done, I was just checking one of the calculations with Mike, when he noticed I had transcribed the Wind Speeds and Variation wrong, from the Internet Report. This had a major knock on effect to the speed, headings, and several other calculations I had made. There was nothing for it but to start over, and do all the calculations again. Whilst I was busily doing this, John had arrived, and found that his proposed flight had been cancelled, so he asked me if he could backseat on my flight, which I was happy to agree to. As the time for my flight was rapidly approaching, and I was busily trying to complete the revised calculations, John appeared and said to me "I'm sorry to interrupt you but…" He got no further, as I snapped back "Then don't", as I was so stressed in trying to complete my calculations, I couldn't afford any interruptions. I just about finished things in time, carried out the pre-flight checks, and we were off.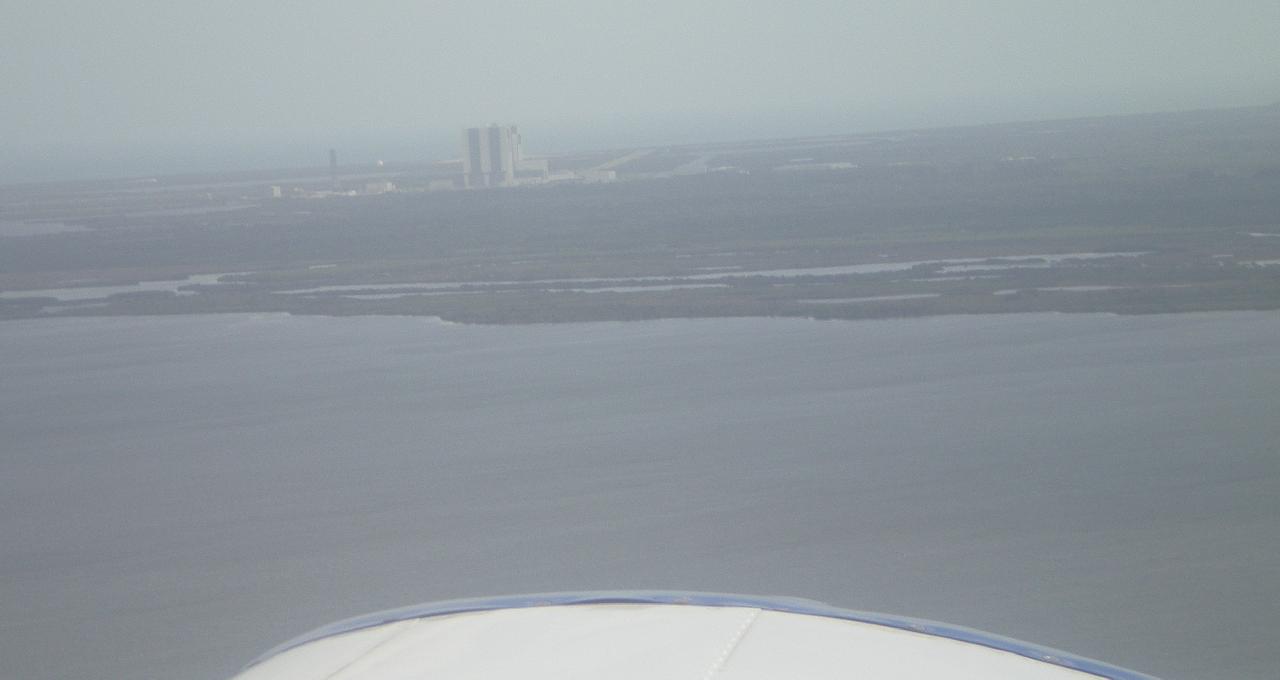 The track of this flight took us through Daytona Airspace, and we transited the area to the west of Daytona International Airport. It looked amazing from the air. We carried on down the coast, until we reached Titusville, and I lined up the aircraft for a Touch & Go landing. As we approached the Airport, the Space Shuttle complex, with the Assembly Building looming large, appeared about 5 miles away. I had given John my camera, and asked him to take some photos, as I knew I wouldn't be able to; it takes me all my time to navigate, and fly the plane. After the T&G, the next part of the exercise was to complete a leg to Deland Airport. However, as we approached, Mike announced a diversion exercise (unable to land due to bad weather), and pointed out another Airfield on the map, and told me I had to find that, and prepare a landing plan. It had taken me all my time to find the Airport I had spent most of last night planning for, so I didn't relish this new prospect. However, it wasn't too far away from Deland, and had good VFR's around it on the map. Whilst I recognized the area surrounding it, as it was a grass strip, we were virtually overhead, before I identified the grass strip and small planes parked up. They appear as small on the ground from 3000 feet up, as they do in the air when flying at 3000 feet! This may seem a silly thing to say, but I always expect airfields and aircraft on the ground to be easily identifiable, but believe me they are not.
We then set course back to Ormond. On the way, I looked out of the window to see a seaplane flying below us. I went back to flying our aircraft, but John told me later that he had seen it land on a large lake below us. Back at Ormond, I made another less than perfect landing (the one at Titusville had been pretty ropey too), so I was a bit disappointed in my overall performance today. Another one of those days when everything seems to go wrong! Mike was less critical of my performance than I was myself, and pointed out the wind speed and velocities at both landing sites were outside the range I was qualified to handle at this stage of my training.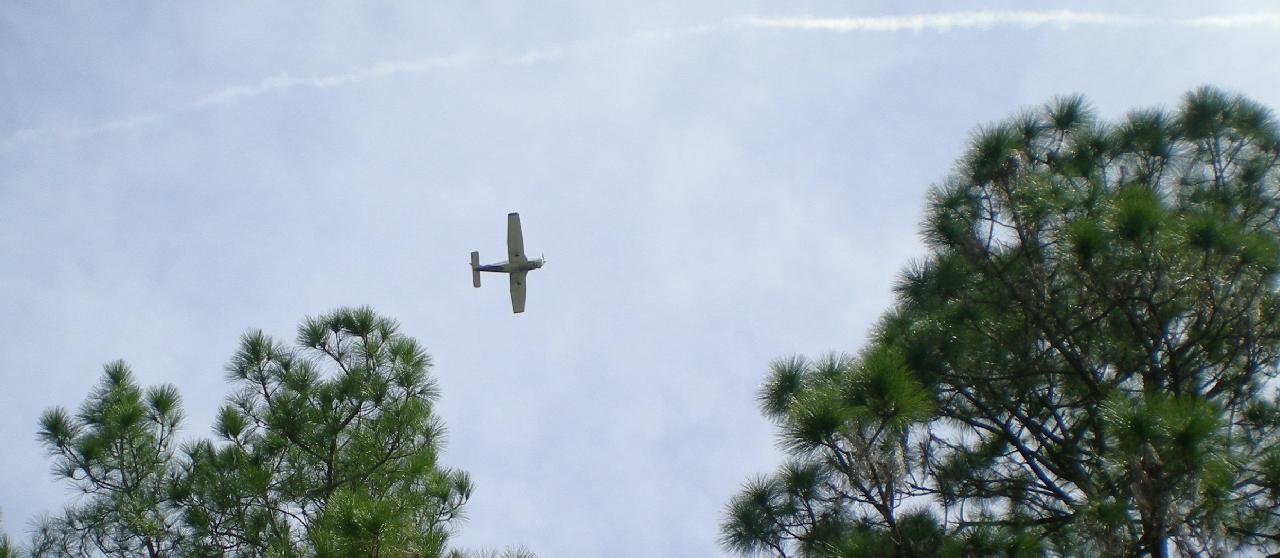 As I had several hours before my evening flight, I suggested to John we return to the house, but stop at the Golf Club for lunch on the way. If I had not been planning to fly again that evening, I may have squeezed in a game of golf in the afternoon, but realized it wouldn't be the best preparation for another couple of hour's flight training in the evening. In fact I think I will be lucky if I get another game of golf in on this trip, as the time requirement for the remainder of the training ramp up in the final week approaching. I spent the rest of the afternoon planning the evening trip, and revising the Navigation syllabus, I need to take this examination on Monday or Tuesday of next week.
I returned to the Airport at 7pm, for my night training exercise. I was really looking forward to this, as I had back seated when Mehmet did this exercise just after I arrived in Florida. However, I was to learn the watching the sights at night when someone else is flying, and actually trying to fly, navigate, communicate with ATC, and write down navigation information in almost total darkness, with just the aid of a red night light torch, are two vastly different experiences. However, I did learn one really cool trick. As you approach any of the Airports on route, and as you fly near them, you can bring on their runway lights, just by keying the radio mike in a set sequence! This is a neat trick, which not only helps you to recognize where you are, it save the landing lights being left on unnecessarily, and they only come on when an aircraft requires them. Many Airports become 'uncontrolled' during the night, and the Towers are unmanned, so this system saves on manpower too. We flew over Palatka Airport, then routed up to Gainesville, where we landed to a full stop, taxied back and took off again, then returned to Ormond, once again via Palatka. I landed back at Ormond to complete two of the five hours night flying I must complete to get my night rating. We had originally planned to do three hours, but Mike had completed his allowed hourly quota for the day. Hopefully I will get another hours night flying with Mike tomorrow, then complete the final two hours solo, by the end of tomorrow.